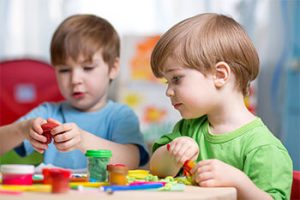 Toddlerhood is the years when your child moves up a big step from being a dependent child to an independent individual. Our toddler room learning environment (indoor and outdoor) with rich age-appropriate resources and equipment that support your child:
Building up a friendship with his/her peers
Developing independence, e.g. toilet training, feeding themselves, making a bed by themselves, hygiene practice…
Foster language acquisition and practice, e.g. using words to express their needs, feelings, ideas and solve problems.
Participate in a variety of small group experiences that include the basic knowledge of art, multi-culture, music, literacy, math, nature environment, and sustainability and science through our curriculum
Challenge and test their body's skills and abilities under our all-time supervision in our large purpose designated playground, e.g. running, jumping, hopping, balancing…
For supporting children to reach their full potential, our educators:
Have been well-trained and knowledgeable about your child's developments.
Observe your child's learning and development, set up the individual monthly goal for your child and plan our program that involves your child's interest and development needs.
Engage in your child's play, interact with him/her and encourage your child to explore different resources, discover new things, ask questions and express his/her ideas as well as extend his/her interests and learning.
Are a role model to help your child shape how he/she behave in our centre and relationship with others.
Keep in touch with you about your child's learning progress.
You can access information on your child's daily routines, learning program and progress at any time via our KidsXap app. You are welcome to talk to us if you have any questions, concerns and suggestions about our centre via various communication ways, such as on the KidsXap, our website, email, telephone, or talking to us at any time. We will quickly respond to your requirements.