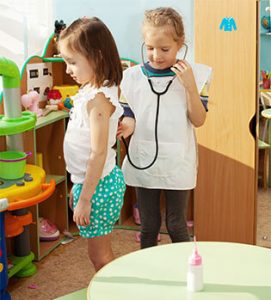 Our kinder room is specially designed to accommodate the kinder children's growing independence and support them in preparing for school:
Each child has their locker to help develop and manage his/her self-help skills
Flexible rooms setting allow your child to independent access to all our pre-school resources including art resources, books, construction, musical instrument, various learning resources related to math, sciences, literacy, natural environment and sustainability, multi-culture, iPad learning apps, and role play.
Well-planned indoor and outdoor environments support children free moving from inside to outside, one activity to another and challenge new skills.
Our kinder program keeps the balance of your child's choice. Our kinder teachers observe your child's learning and development, follow their interests and set up types of topics to extend their learning.
Intentional teaching through activities and group time includes knowledge of numeracy, math, literacy, sciences, word around us, environment sustainability, reading and writing. In the group time, your child will learn taking turns, sharing with others, practicing the oral skills in presentation time.
Our school readiness program helps your child transition to school and the advancement of your child's knowledge.
The daily communication note lets you know about your child's learning in the day that will send to you via our Kidsxap daily. Our educators will look forward to your response.
Our kinder teacher scaffolds your child's learning by:
Providing activities just slightly above your child's ability
Engaging your child in activities which include skills he/she has already mastered as well as some new learning goals
Assisting your child using those previously mastered skills and to be able to perform the new activity and eventually build new skills as well.
You can access information on your child's daily routines, learning program and progress at any time via our KidsXap app. You are welcome to talk to us if you have any questions, concerns and suggestions about our centre practice and your child via various communication ways, such as on the Kidsxap, our website, email, telephone, or talking to us at any time. We will quickly respond to your requirements.
All children at our centre are welcome to participate in our wonderful and enjoyable extra-curricular activities, excursions and incursions during the year.